魂兮歸來 Aaling the Ghost key art


Aaling the Ghost 魂兮歸來
video game for Game Boy Color
published by Incube8 Games



Aaling the Ghost is a story-driven turn-based RPG staged in a fantasy world based on early Chinese folk beliefs and landscapes. The adventure is inspired by the poem "Summons of the Soul" (招魂) by Qu Yuan (屈原). The player controls a rebellious ghost named Aaling in her survival journey to arrive at the Kunlun mountain within seven days before she would vanish.

Gameplay Features



In-game screen captures. L: Banyan Woods, R: Lotus Maze

The top-down world consists of various exterior and interior maps. Some of them are mazes, where players need to use their memory and navigation skills to find the exits. Some paths might be blocked and require key items or turning switches to unlock.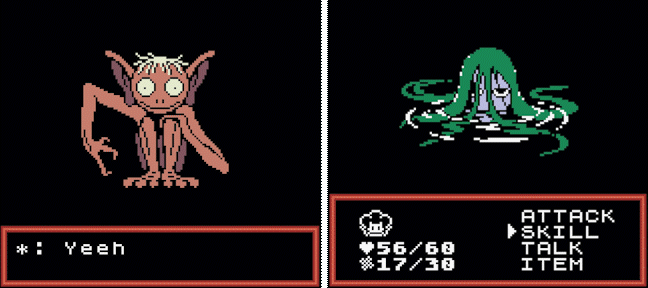 In-game screen captures: talk option during battles

Besides the basic attack and a set of offensive/defensive skills, the battle menu includes a TALK option, which enables the player to talk out of a battle or to learn about the enemy's objective. When a player selects TALK in their turn and chooses certain answers throughout the enemy's dialogue tree, they can win a battle without conflict (if the encountered enemy is a negotiable one). A talked-out battle gives player the same experience points as winning the battle through combat. The feature shows the enemy's personality and enables various play styles.



In-game screen capture: learn skills from travel companion

Aaling will encounter several companions during her adventure. These companions travel with Aaling one at a time for a small section of the whole journey, then part their ways, passing a unique combat skill to Aaling upon their departures.



In-game screen capture: Ghostel

There are Ghostels in various locations across the game's world. A Ghostel is a tavern for non-human travellers where the player can take a rest (to recover HP/MP), save their game and interact with NPCs - some of which will tell useful information. Each area includes a unique-looking Ghostel.



In-game screen capture: item menu

Players can discover and pick up consumable items in treasure chests scattered across the game. The item designs largely come from mythology, local plants, and some traditional objects. Players can access the item menu in or out of battles.


In-game screen capture: battle scenes

Boxed cartridge edition (mockup)


︎ Aaling the Ghost is currently on Kickstarter:
https://www.kickstarter.com/projects/weiweileung/aaling-the-ghost-for-game-boy-color

︎ Get notified when the game is out on Incube8 Games official webshop:
https://incube8games.com/products/aaling-the-ghost-gbc

Press:

Retrododo: retrododo.com/aaling-the-ghost/

TimeExtention: www.timeextension.com/news/2023/09/aaling-the-ghost-is-a-promising-new-game-boy-rpg-now-on-kickstarter

Retronauts: retronauts.com/article/2137/kickstarter-kompilation-october-2023-edition

Best Indie Games: www.youtube.com/watch?v=TpyEqTxE7RE

To see the latest development updates, welcome to follow @aalingtheghost on:

︎ Twitter
︎ Instagram
︎ Bluesky